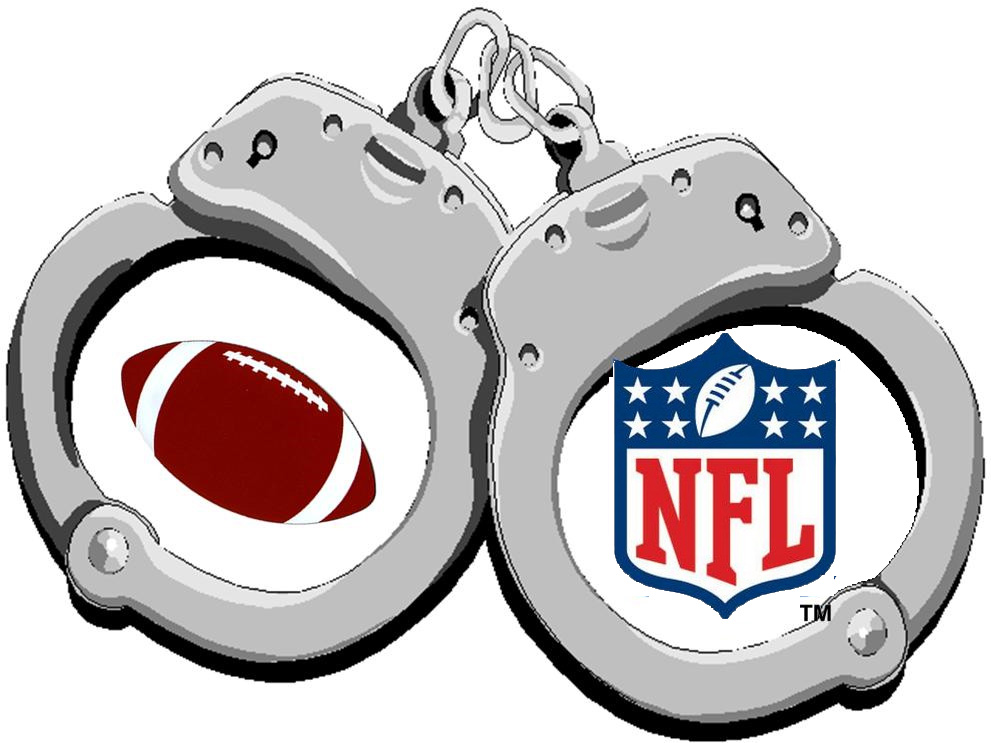 Research compiled via the San Diego Union-Tribune's NFL Arrests Database. Tracking arrests and citations involving NFL players since 2000. Standings updated July 1, 2009.
AFC East
Miami Dolphins- 25 (*4 this off season)
Buffalo Bills- 13
New England Patriots- 11
NY Jets- 7

AFC North
Cincinnati Bengals- 32 (NFL Arrest Leader!)
Cleveland Browns- 20
Pittsburgh Steelers- 16
Baltimore Ravens- 15

AFC South
Tennessee Titans- 25 (*4 arrests since Jan 1st 2010)
Jacksonville Jaguars- 25
Indianapolis Colts- 17
Houston Texans- 9

AFC West
Denver Broncos- 25
Kansas City Chiefs- 25
San Diego Chargers- 23
Oakland Raiders- 12

NFC East
Washington Redskins- 11
NY Giants- 11
Dallas Cowboys- 9
Philadelphia Eagles- 7

NFC North
Minnesota Vikings- 30
Chicago Bears- 18
Green Bay Packers- 12
Detroit Lions- 7

NFC South
Tampa Bay Buccaneers- 19
New Orleans Saints- 18
Carolina Panthers- 15
Atlanta Falcons- 13

NFC West
Seattle Seahawks- 13
Arizona Cardinals- 9
San Francisco 49ers- 9
St. Louis Rams- 6

Arrest Super Bowl Matchup:


Vikings vs. Bengals

Cincinnati wins with 3 arrests this offseason (Cedric Benson, misdemeanor assault, allegedly punching a bar employee in face. WR Maurice Purify, disorderly conduct after alleged late night bar fight. LB Ray Maualuga, DUI after hitting a parking meter and two parked cars.) Vikings haven't had an arrest since CB Cedric Griffin with a DUI in August of 2009.
- Broncos and Chiefs tied with 25 arrests atop AFC West, each with one arrest this off season. Denver gets the edge with DT Ronald Fields arrest on a misdemeanor gun charge topping CB Michael Richardson's arrest for possession of an open alcohol container.

- Redskins topped the Giants in the NFC East on tiebreaker. CB Byron Westbrook (DUI) and OL Chad Rinehart (public intoxication) top Giants who haven't had player arrested since Plaxico Burress shot himself in a nightclub back in December of 2008.

- Tennessee Titans win tiebreaker over Jacksonville Jaguars. Chris Simms arrest July 1 for DWI with marijuana in New York is the Titans FOURTH arrest this calender year. Jaguars haven't had an arrest since Matt Jones was arrested in Arkansas for a probation violation, testing positive for alcohol.

- The St. Louis Rams 6 arrests are the fewest in the NFL. None since LB Gary Stills 2008 arrest for failure to pay child support.

- NFC West 37 arrests are the fewest of any NFL division. NFC East had 38 arrests, the second fewest since 2000.

- AFC West has 85 arrests, tops among all divisions. AFC North's 83 arrests are second most.

via:
BenMaller
here is hoping for next season..