(AllHipHop News) Atlanta rapper/producer Soulja Boy has deleted his Twitter account, after amassing over two million followers on the popular social networking site.

Although the rapper has yet-to-reveal his reasoning for deleting his Twitter account, the website was abuzz with the news, as the rapper quickly became a trending topic.

The rapper caught a lot of negative feedback from people on Twitter using the hash tag #ifsouljaboysarapper.

The move could also cost Soulja Boy thousands of dollars in lost revenue.

According to reports, Soulja Boy and Kim Kardashian were the highest paid celebrity tweeters, earning up to $10,000 per-tweet.

via:
Allhiphop
Now when I first came on this site, I promised myself I will NEVER post ANYTHING Soulja Boy, Bow Wow, Lil B, or New Boyz related unless it is some EPIC fail shit. Trust me these dudes have ALOT of them in their life, and this one is NO exception. Soulja Boy is a straight CANCER to hip-hop, he is the leader of to all these bubble gum garbage, no flow, no lyrics, no talent ass niggas in the rap game right now. Call me a hater I don't give a fuck, this nigga is BEYOND garbage, and for him to push this shit in my face as actual MUSIC deserves a chin kick to the face HBK style.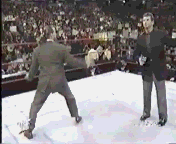 Soulja Boy finally realizes that he has NO FANS..like LL once said
"99% of your fans don't even EXIST!"
the 1% that actually like his music need to go jump off a a cliff. That trending topic needed to be made so he can finally see that NOBODY gives a fuck about his bitch ass. Hearing that he actually got PAID for twitting makes me wanna drive to San Francisco, go to twitter headquarters, and chest kick WHOSE EVER had the bright idea to pay that lil niglet. I wanna kick them in their chest on sum spartan shit, and before I yell it I say "THIS IS HIP-HOP!!"
Now I am hearing rumors that Soulja Boy is trying to go the Hov route and wants to quit rapping..Soulja Boy if you do, everybody in hip-hop will just..
Next on my shit list is
his gay lover Bow Wow
stay tuned..